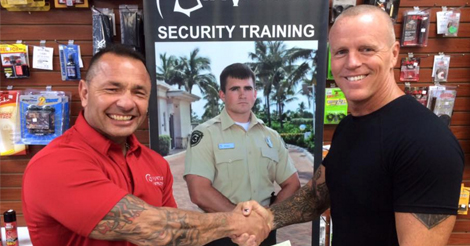 Security Guard Training In Melbourne

Call Us Today (866) 640-8971 
Security Guard Training In Melbourne
Invictus is the Premier security guard training in Melbourne, Florida. Invictus security school is located at 806 W New Haven Ave, Melbourne, FL 32901. Our security classes will enhance our students skills and better prepare you for the private security industry.
Security Classes
To become a licensed security officer in Florida you must complete the 4-day unarmed Class D Security Course. Our Security Guard Training In Melbourne offers the Security D Classes  from Monday-Thursday starting at 0800. 
| | |
| --- | --- |
| Florida Security License Laws 493 | Terrorism Awareness |
| First Aid Training | Public Relations |
| Emergency Procedures | Courtroom Procedures |
| Ethics | Fundamentals of Personal Security |
| Use of Force 776 | Interpersonal Communications |
| Liability | Professional Communications |
| Observation Techniques | Traffic Direction |
| Patrol Techniques | Crowd Control |
| Report Writing | Special Problems for Security Officers |
| Crime and Accident Scene Protection | Terrorism Awareness II |
| Interviewing Techniques | Wanding & Search Procedures |
| Access Control | Introduction to Non-Lethal Weapons |
| Crime and Accident Prevention Techniques | Defensive Tactics |
| Fire Safety | |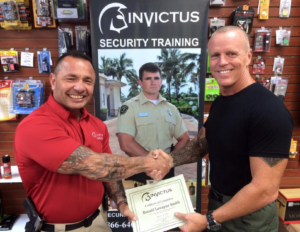 Note: According to the DOL, applicants for the security license in Florida must be at least 18 years of age, have no disqualifying criminal history and be legally allowed to work in the United States.
All Prices Include Course Material, Notarizations, and Passport Photo. Does not Include State Licensing and background check fees.
Invictus Security Guard Training In Melbourne is within driving distance from the following cities; Cape Canaveral,Cocoa, Cocoa Beach, Indian Harbour Beach, Melbourne, Palm Bay, Rockledge, Satellite Beach, Titusville & West Melbourne.
Security Jobs Melbourne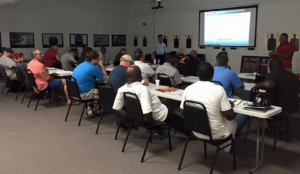 To work security jobs in Melbourne, Florida you must complete the entire Security D Course and then you can apply for licensure with the State of Florida Division of Licensing. Once you graduate from Security Guard Training in Melbourne, students will be provided with an Invictus security D course Certificate of Completion.  Students earn their certificates when they train with Invictus.
To register for the Security Class D Course in Melbourne, students can either pay & register online.  Please view our calendar for course dates. Once registered students can attend any Invictus D course that is on our schedule in Melbourne.  If there is scheduling conflicts please contact us. We offer various options to our students to work with your schedule.
Invictus Offers Additional Training Packages for Veterans & LEO's in Melbourne
     Call us today!  (866) 640-8971