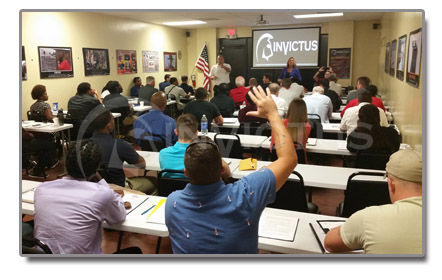 Invictus is Florida's leading provider of professional security training. Our company provides the most up-to-date and professional security training programs available.  We provide security training courses that will improve individual skills and prepare you for the private security sector.
What sets our company apart is our staff of highly experienced security instructors. The Invictus staff is comprised of former U.S. Military Veterans and Law Enforcement professionals. Our instructor cadre is recognized leaders in the security industry and has trained thousands of Security Professionals at our academy.
The Invictus security academy trains our students with the security fundamentals and tools to become a security professional.  To obtain a Florida Security License you must complete the 40-hour Class "D" Security Course. We also offer the American Heartsaver First Aid, CPR & AED certification as an option with the D course.
To become an armed security officer students must obtain the Statewide Firearms License (G). The Statewide Firearms Class "G" training is a 3-day course that covers the Florida Statues, Firearms Safety, the Fundamentals of Marksmanship, Dry Fire Practical Applications and Live Fire Qualification. Invictus firearms training courses are Second to None and prepare security professionals to work in an armed capacity.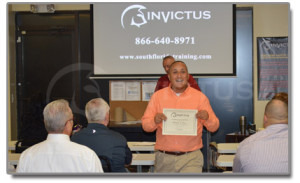 Invictus provides job assistance with the biggest security companies in the security industry.   We have recruiters from local security companies that want to hire our students today because of the quality of training we provide.  Click below to see our course schedule and to find out more information about Invictus job training programs.