Corporate Executive Protection Services

Executive Protection Services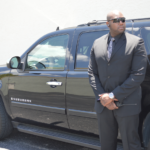 With the ever-changing world of business, comes the continual development and advancement of the traditional ways of ensuring the security of today's client. Whether you are a private Non-Government Organization (NGO), a business executive or celebrity, Invictus security protection details have the ability to provide a low-profile alternative, fulfilling security objectives with minimal imposition on the client. Invictus provides personal security services in the U.S and Worldwide.
Invictus provides the following Executive Protection Services:
International Security Services
Executive Protection
Bodyguards
Security Advances
Security Surveys
Security Transportation
Mission Support Logistics
Emergency and Humanitarian Logistics
Linguistic Services
Executive Protection Officers
Invictus provides personal security, security assessments, site surveys and security advances well suited to your specific requirements. Invictus executive protection staff is comprised entirely of U.S Military Veterans and former law enforcement personnel. Our security staff has extensive executive protection training in protection services and proven themselves as security contractors for the Department of Defense in high threat environments around the world.
Executive Protection Services
Our Security Protection Officers are always well briefed on the cultural background of every assignment, thus providing awareness of potential diversities. This procedure means that our Close Protection Bodyguards will conform to appropriate religious and cultural protocol on all assignments.
Personal Security
Bodyguards
Workplace Violence
Stalking & Threat Assessments
Risk and vulnerability assessments
Red Carpet Events
Concert Security
Event Security
Music Tours
Transportation Services
Armed Security Drivers
Private Parties
Concierge
Stalking Investigations
Staff Background Checks
Our Protection Services operate domestic and internationally in the following Cities and Countries: 
Miami, Ft. Lauderdale, West Palm Beach, Florida Texas, Louisiana, New Orleans, United States.  The Caribbean Islands; Port-au Prince, Haiti, Bahamas, Puerto Rico, Dominican Republic, Jamaica. South America & Central America, Nicaragua, Mexico,Honduras, Guatemala, Costa Rica, Columbia, Peru, Brazil, Panama, Belize, El Salvador, Venezuela,  Africa, Kenya, Asia, Middle East.