Security Guard Training in West Palm Beach

Security Guard Training in West Palm Beach
To work as a security officer, you are required to complete the Class D security license, we offer the Security Guard Training in West Palm Beach.  The Class D security course is the required training you must complete to work unarmed security.  To apply for security jobs in West Palm Beach, you must already have the Florida security license issued.
The State of Florida requires students to complete 40 Hrs of training at licensed security school (DS).  Our security school offers the class D Security Guard Training in West Palm Beach Weekly,  Monday-Thursday at 0800 and on Weekends, please visit our training schedule for security class dates.
Once you complete the course, students can then apply for the State of Florida Security D License.  We will provide you with all the required documents needed to apply to the State of Florida. The State charges a $45 application fee for the 2 year license and also require the FDLE Livescan Background Check $42. These fees are not associated with the class fees charged at our school to certify you for the training.
Job Assistance
We work with local security recruiters helping assist our students with security employment opportunities.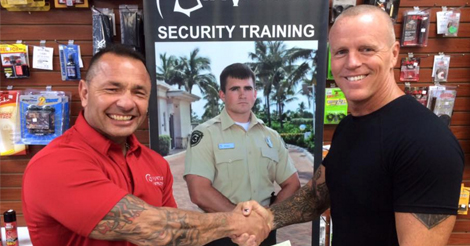 Note: According to the DOL, applicants for the Florida security license must be at least 18 years of age, have no disqualifying criminal history and be legally allowed to work in the United States.
All Prices Include Course Material, Notarizations, and Passport Photo. Does not Include State Licensing Fees.
Class D Security Course:
Florida Security Laws 493
American Red Cross First Aid Training
Use of Force 776
Emergency Procedures
Ethics and Professional Conduct
Observation Techniques
Security Patrol Techniques
Report Writing
Crime and Accident Scene Protection
Interviewing Techniques
Crime and Accident Prevention Techniques
Fire Detection, Suppression and Life Safety
Terrorism Awareness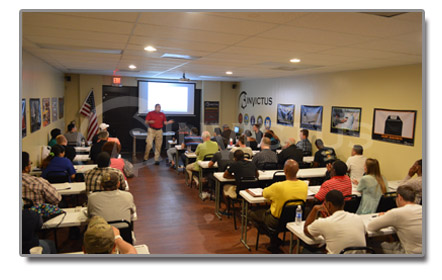 How to register
To register for the Security Guard Training in West Palm Beach, you can register online, on the phone or the day of the class.  We do accept walk-ins.
Other Courses
Our Security Guard Training in West Palm Beach offers a full range of courses including the armed security training and American Heartsaver CPR & AED certifications.
Armed Security Course
To work armed security you must complete the unarmed D course and the Statewide Firearms G course. The Statewide Firearms G course is a 3 day course that we offer every weekend at our Security Guard Training in West Palm Beach. We offer top quality firearms training and prepare our students with the proper marksmanship fundamentals. Our classes are the best in the industry and security professionals choose us for that reason.
Invictus security school provides services to the following cities:
Belle Glade, Boca Raton,  Greenacres, West Palm Beach,Jupiter, Lantana,  Coconut Creek, Coral Springs, Deerfield Beach, Delray Beach, North Palm Beach, Palm Beach, Palm Beach Gardens, Plantation, Boynton Beach, Pompano Beach, Port St. Lucie, Riviera Beach, Royal Palm Beach, Lake Worth, Stuart, Sunrise, Wellington