Risk & Security Assessments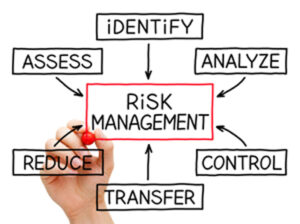 Invictus security consulting services provides risk assessments which consist of identifying and analyzing the organization's assets, threats, and vulnerabilities. The risk assessment includes determining the probability or likelihood of a loss event occurring and determining countermeasures required to mitigate the risk. An organization must be prepared for the worst case scenario as well as have a plan in place to maintain business continuity.
Invictus security consultants provide our clients with options to mitigate security risk with effective countermeasures.  Our clients include organizations such as Hospitals & Healthcare Facilities, Corporations, Residential Properties (Gated Communities, Country Clubs, Condominiums), Houses of Worship (Churches, Temples, and Mosque). Organizations should perform Physical Security Assessments continually to help protect their assets and mitigate any potential risk to the day to day operations.
Physical Security Surveys 
Invictus physical security consulting services evaluate the current level of security for organizations through a physical security examination of the premises and a thorough inspection of people, procedures, and technology. The physical security survey has the overall objective to analyze the property to determine the existing state of security, locate any weaknesses in its defenses, assess the degree of protection required, and make recommendations for establishing a total security program. This would also include a study of the existing security profile. This security profile is based upon site location, exposure to current threats, criminal activity, past security breaches, physical layout and design, Crime Prevention Through Environmental Design (CPTED), safety concerns, and current policies and procedures.
We provide Risk Assessments & Physical Security Surveys for: 
Hospitals & Healthcare Facilities
Houses of Worship
Cyber Security Assessments
A Cyber Risk Assessment helps assist organizations to identify their risks, vulnerabilities while conducting day to day business operations on the internet.  Cybersecurity threats are increasing daily for businesses; we can help you with the tools necessary to protect your organization's assets and data.
Enterprise IT risk assessments and analysis
Network security assessments
Penetration testing
Physical security assessments
Vulnerability assessments
Web application testing
Wireless assessments
Policy assessment and design
Manpower Recruitment for Chief Security Officers (CSO)
Fill out the form below for a Discount