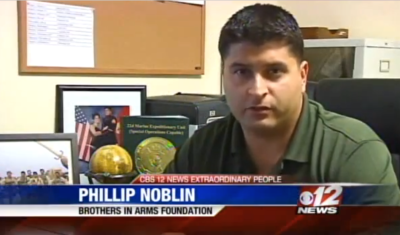 CBS 12's Extraordinary People: Brothers In Arms Foundation dedication to Veterans
Story By: Michele Wright / CBS 12 Anchor
CBS 12 STORY LINK
BOYNTON BEACH, Fla.– Semper Fi. The few…the proud…the Marines. We salute our military men and women who protect our country's freedom everyday. Sadly when they return from serving, some veterans and their families face many challenges. For thousands..it's unbearable…when a soldier pays the ultimate sacrifice and dies in the line of duty. That's were Brothers in Arms Foundation stepped in. Phillip Noblin is the founder and a former Marine.
Phillip Noblin: "I founded Brothers in Arms in 2009 when 2 very close friends of mine were severely would by an IED in Afghanistan. I felt compelled to do something. I felt very fortunate that I came home from Iraq in one piece. And I had the means to do something more. I couldn't bear the thought of wives and mothers standing there scratching their heads wondering how they were going to pay for relocation costs, things not covered by insurance. It was my way of giving back to the community…the military community that I came from."
Phil works with a dedicated staff alongside his friend and fellow Marine veteran Patrick Miller who is the President at Invictus Security in Boynton Beach. He tells CBS 12's Michele Wright that they proudly hire veterans and provide support to service men and women from all branches of military. They will become the 1st veterans approved training facility in Florida. The two work hand in hand in assisting the community through charity projects.
Phillip Noblin: "We have what you call The SchoolHouse. We are currently building a school house on the property of a fallen Marine so his spouse can home school his children. We have a sons and daughters program where we provide an outside of the box special assistance, special needs, accelerated education, vocational programs anything not covered. We find the gaps and fill them."
Throughout the year they raise money for the foundation. Tickets are $15 to participate in their upcoming Saluting our Heroes Charity Softball event. It's a fun and family-friendly way for you to get involved with them, Enforcers Foundation of the Palm Beaches and The Professional Firefighters and Paramedics Benevolent fund.
Phillip Noblin: "You can watch cops vs firefighters. Military vs cops. Very exciting event. October 6th 12-6pm at Roger Dean Stadium in Jupiter."
With 9/11 coming up Phil says its very important we reflect on the sacrifices made & never forget our hometown heroes.
Phillip Noblin: "They continue to go to dangerous places…they continue to fight…they continue to make sacrifices..it's very important they are not forgotten about."
We will never forget. CBS 12 honors past, present and future men and women of the United States armed forces home and abroad.
Click HERE for ways to donate, volunteer or get more information on "The SchoolHouse"
Click HERE for Invictus Security & their 1st Veterans Approved Training facility in Florida
Get involved & purchase tickets to the 10/6/12 Saluting Our Heroes Softball Showdown HERE
Special thanks to Boca Raton City Council Woman, Constance Scott. For more information on Palm Beach State College Small Business Development Center click HERE